AMERICA'S FIRST ENTERTAINMENT
DISTRICT OVER A RIVER
It's a public crossing, a community center, a trailhead, and a full-on entertainment district — 40 feet over the water. Two, independent feasibility studies concluded its viable, it's a first, and it's going to be sensational!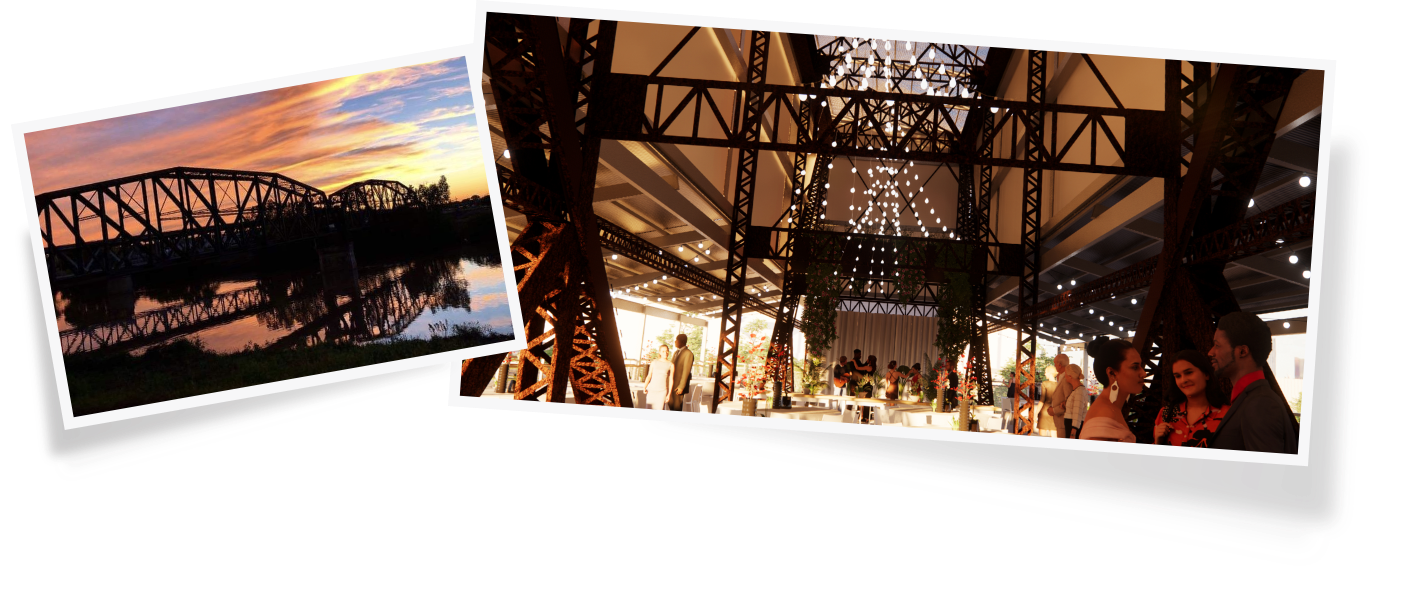 SOMETIMES, IT'S ABOUT THE WAY
People have been building bridges to get to the other side since time immemorial. We write songs about them. We paint them. We use them as a metaphor -- and we love them. Yet until now, they've always been a means to an end, which for a bridge is . . . the other side.
The Rock Island Bridge can take you to the other side. But this bridge is also the destination.
For nearly a century the Rock Island Railroad played a central role in the Kansas City Stockyards District which ran along both sides of the Kansas (Kaw) River, and was the second-largest beef processing center in the world. The Railroad's initial bridge over the Kansas River was swept away in the flood of 1901.
To replace it, the Railroad hired the American Bridge Company to design and build two 302 feet-long, Pennsylvania trusses and concrete foundations forty feet into the riverbed. The new bridge began service in 1905. In 1921, a third, shorter span was added to the eastern end when the US Army Corps widened the channel.
Following the devastation of the Flood of '51, the Corps hired L. G. Barcus Company of Kansas City, KS to install screw-lift gates capable of raising the three trusses six feet in advance of high waters. Barcus is now back on the job, using the same mechanisms to lift the bridge to its new permanent location above the height of the new levees, and installing the new steel and concrete decks and railings.
The City of Kansas City, Missouri purchased the bridge and its access easements in 1980 as part of the Kemper Arena parking expansion. Since that time, the majestic structure sat unused, its tracks long ago disconnected. Kansas City, Kansas took ownership of the bridge in 2022 to connect its emerging network of levee trails, and to activate the new Kansas Waterfront through this unique, public/private partnership.
IT'S TIME TO RECLAIM AMERICA'S HISTORIC BRIDGES, AND KANSAS CITY IS LEADING THE WAY
Great cities possess surprising and remarkable destinations that say something about who they are and from where they've come.
The San Antonio Riverwalk, the St. Louis City Museum, the Minneapolis Riverfront and New York City's High Line . . . They were an unloved river, an abandoned shoe factory, a derelict lock and milling district, and an old railway line and all once forgotten relics. But with vision and calculated risk, people came together to transform these places into beloved destinations that now define their cities.
Appreciating the Kansas River's recreational value, the West Bottoms' gathering energy, and a growing demand for local, authentic and fun experiences, Flying Truss is reclaiming the historic Rock Island Railroad Bridge as America's first trailhead and entertainment district over a river.
This 1905 bridge and this place along the Kansas-Missouri border was chosen to at long last embrace our metro's history of railroads, big rivers, and big bridges, setting into motion what is becoming a vibrant, riverfront district.
"Bridging the rivers helped build the early Kansas City economy. But in the process, the railroad tracks cut us off from our waterfronts. This project reconnects us to the water."
-DANIEL SERDA, Local Initiatives Support Corporation
1: America's 1st destination landmark bridge
630': Height of The Gateway Arch, making the RIB longer than the Arch is tall
3: The RIB's number of trusses
1905: Year the RIB's two original trusses were built
1920: Year the smaller, eastern truss was added
100 Yards: Length of EACH of the two original trusses
4: Number of heavy steel lift gates installed in the 1950 to elevate the trusses
350 tons: Weight of each of the two larger trusses
620 yards: Amount of concrete we're adding (2,480,000 lbs)
2,216 tons: Total weight of the updated bridge (4,432,000 lbs)
50: Number of feet the RIB is west of the state line
2: Number of states the project crosses into (entire bridge is in KS, but the eastern approach goes into MO)
1: Minutes it takes to walk from Hy-Vee Arena to RIB
50: Number of feet the upper deck is above the river
3': How many feet the US Army Corps is raising the adjacent levees
3' 5": Amount we are raising the bridge (to remain above new levee height)
130 Yards: Width of the KS River
55': Widest spot on the bridge after the 13 ft cantilevers off of both sides are added
2nd: The truss on which the trailhead and entertainment district sits
2: Number of decks high
85 Yards: Length of the cantilevered, lower-deck
13: Feet each deck extends from both sides of the bridge
30: Feet that engineers determined that cantilevers could be extended in later phases
3,160,000: Pounds of moving weight that engineers determined the RIB can carry
$1: Price the Unified Government paid Kansas City, MO for the bridge
TWO INDEPENDENT STUDIES CONFIRM THIS IS A WORLD FIRST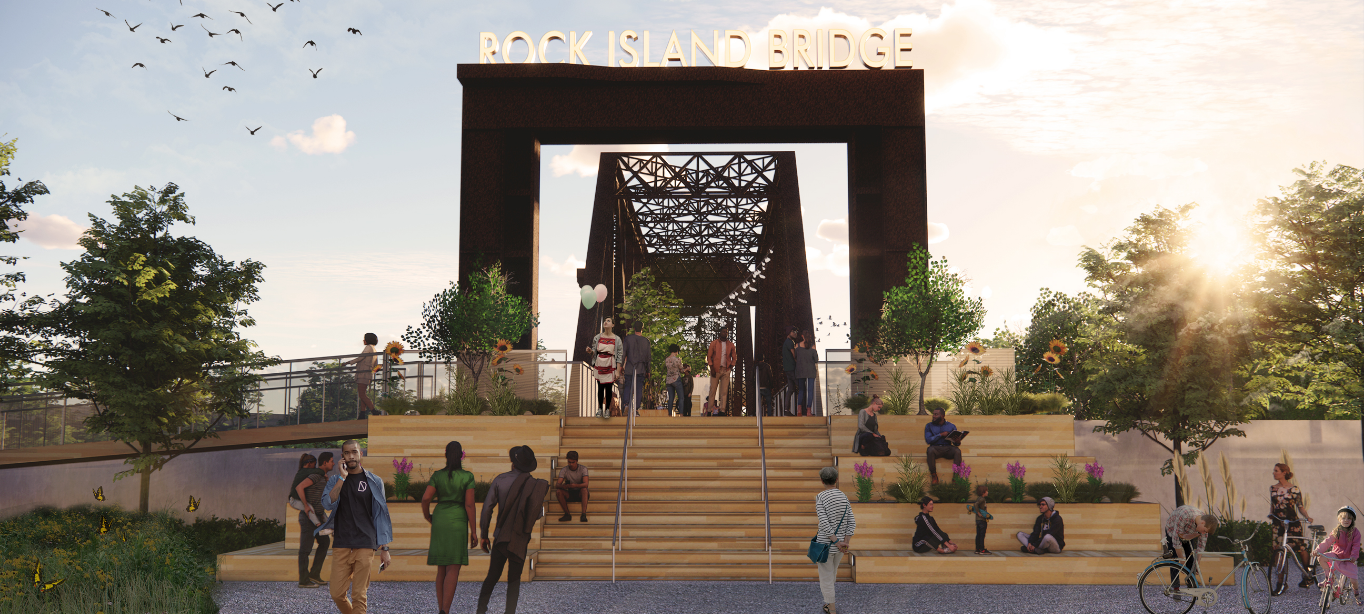 Looking west at the new "front door" for Kansas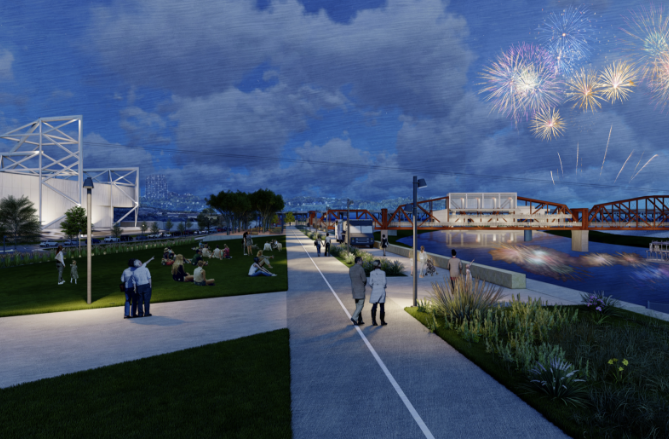 The new Kansas Waterfront is a confluence of trails, land/water, and our two Kansas City's
The top deck's 300-person event space has ceiling mounted heaters and drop-down curtains for cool weather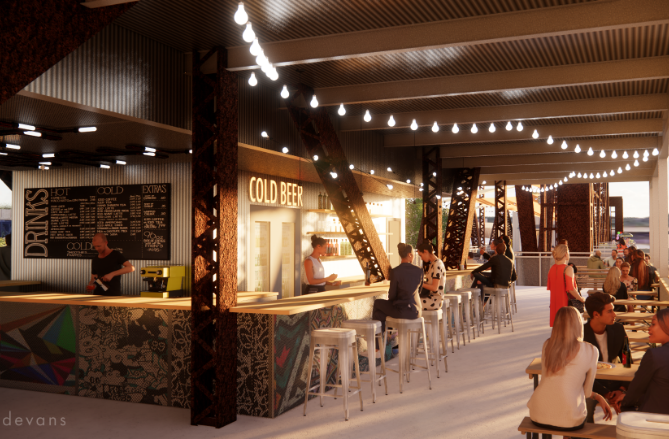 The North Deck of the Central Truss seats 300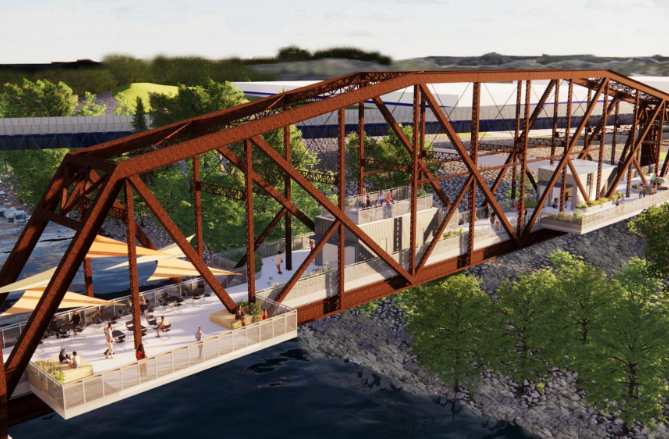 The Western Truss is perfect for public uses like farmer's markets, festivals, and just relaxing while the river roll by
INFRASTRUCTURE REUSE IS SUSTAINABILITY
The Rock Island Bridge is an infrastructure re-use project itself that reinvents 1,200 tons of blighted steel into a public crossing, trailhead and an entertainment district. It's also the catalyst in a broader movement to:
Activate the Kansas Waterfront for recreation up to the Missouri River
And to reconnect Kansas City to our history, nature, and to each other
The steel rails are being repurposed as foot rests along the bar and viewing platforms. And we are minimizing waste in our food service strategy, and exploring the viability of solar energy.
Rock Island Bridge has been invited to join the prestigious High Line Network, a working think-tank for America's top infrastructure reuse projects. A high honor.
Members of the Network commit to creating vibrant, public spaces that anchor local communities, build civic connections, support environmental resilience and foster equitable community development.

THE ROCK ISLAND BRIDGE: FOR KANSAS CITY, BY KANSAS CITY
Infrastructure reuse projects like the Rock Island Bridge can transform entire areas in a community. But they often need participation from across the entire community to get them going. If you run into any of our friends and supporters below ... remember to raise a high-five, an oar, or a glass of the good stuff to them.
Friends of the Kaw
Historic West Bottoms Association
Armourdale Renewal
Central Avenue Betterment
Free Wheels for Kids
All American Catfish
PortKC
ZipKC
EAG Advertising & Marketing
Healthy Wyandotte
KC Boat Club
Foutch Brothers Development (Hy-Vee Arena)
Prime Investments
American Crane
Dickinson Family Foundation
Helzberg Foundation
Sunderland Foundation
BlueScope Foundation
Dennis Strait | Multistudio (formerly Gould Evans)
Crissy Dastrup | Dastrup Creative Group
Scott Brown | Bon Ami Faultless Starch
Bruce Holloway | Historic West Bottoms Association
Dana Knapp | ArtsKC
Julián Zugazagoitia | Nelson Atkins Museum of Art
Monica Mendez | Armourdale Renewal
Brett Posten | Highline Partners
Rick Behrens
David Disney | JE Dunn (retired)
David Toland | Lieutenant Governor, KS
Tyrone Garner | Mayor of Kansas City, KS
Jeff Fisher | Unified Government Public Works
Sarah White I Unified Government Engineer
Bridgette Jobe | Director of Tourism, KS
Cathi and David Brain
Robert Regnier
Andrea Wardell
David Lockton
Tom and Jean McDonnell
David Larrabee
Dan Musser
Neal Sharma
Tucker Trotter
Richard Wetzel
Jeanette Prenger
Ann and Frank Uryiaz
And many others
IT STARTED WITH "CHICKEN ONA BRIDGE"
MICHAEL ZELLER
CEO, Flying Truss
Michael first had the idea of treating the unused Rock Island Bridge like it was land while on an afternoon boating trip with his family. He has since refined the concept and led the way on the business model, partnerships, designs, and the securing of the funds needed to build it. The original notion that afternoon was to place a simple restaurant over the water and call it Chicken Ona Bridge. Some say that moment of inspiration arrived while holding a potato gun that he and his sons had built--but we don't mention that to investors.
Before becoming a bridge guy, Michael served as chief development officer for Kansas City PBS. He led the team charged with developing the stations' events, many of its TV programs, and the fundraising. During his tenure, KCPBS acquired 90.9 The Bridge, launched a digital journalism center, completed a major capital campaign and developed an array of Emmy Award-winning programs and documentaries.
Michael attended North Kansas City High School, and along with high school friends, enjoyed many summer evenings on the ASB Bridge over the nearby Missouri River. He earned a master's degree in economic geography from the University of Missouri. Then, while working abroad, he noted many interesting bridges and other infrastructure reuse projects in Taipei, Prague, and Munich where met his English wife, Liz.

MICHAEL LADDIN
Vice President & CFO, Flying Truss
Michael grew up on a farm in Shawnee, just south of the Kansas River. He founded and served as CEO of a global leadership consulting firm, and has worked with big-name clients, such as Pfizer, EA Games, Ubisoft, Teva, CBS, Raytheon and JPL. Michael earned a B.S. in psychology from Fort Hays University and an MBA in finance from Rockhurst University, both degrees serving him well as he gained management experience in healthcare, publishing, pharmaceutical sciences, and now remodeling 1905 railroad bridges.

John is the vice president of development, Kansas City, with Milhaus Development, LLC, an Indianapolis-based real estate development firm. Before joining Milhaus in 2018, John was a shareholder at Polsinelli PC, a Kansas City-based law firm, and also served as the chief of staff in the Office of Mayor Sly James of Kansas City, Missouri.
John has managed multiple real estate development transactions totaling over $1 billion, including the KC Streetcar project. He earned a B.S. in history from the University of Wisconsin and a J.D. from the University of Missouri-Kansas City School of Law. John is a founding member of Flying Truss, LLC.